To Submit your response to an Activity, select the Submissions tab in an Open activity and select Write a Post.
Add a Title to your post, add your Text in the post field, and attach any Files. This is a WYSIWYG field, and it supports a broad variety of formats, including numbered and bulleted lists, bolded and italicized fonts, and standard left-justified, center-aligned, and right-justified text. Text can be hyperlinked and images may be embedded within the blog.
Save your post as a Draft, or Publish it.
Published posts appear beneath the Submissions tab, and are available for comments and likes.
To Edit or Unpublish your post, select the three horizontal grey dots beside the post and select an action.

To access all of your posts on the site, select My Posts from the top menu.

Under My Posts, you can view all of your posts--Published, Unpublished, and Draft. You can filter by Published, Unpublished, or Draft to view only the posts with that Visibility. You can also view under which Activity a Published post appears.
Select a post to Edit it or change its Visibility. Select Update to update, or Cancel to cancel updates.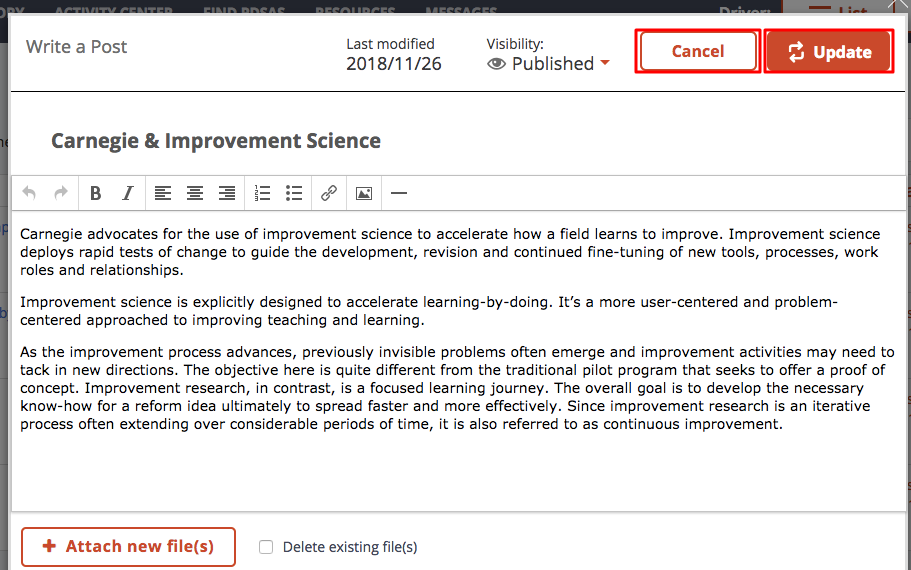 Note: Depending on your NIC's NILS instance, phase, and your network role, some items may appear differently in the menu bar.